> Trolleys
> Special Purpose Trolleys
> Aluminium Alloy Travelling Davits
> Aluminium Alloy Travelling Jibs
> Aluminium Alloy Davits
> Aluminium Alloy Jibs
> Aluminium Alloy Monorails
> Gantries and Travelling Ladders
> Roof Beams
> Cradles
> Bosun's Chair
> Safety Eye Bolts
> WaterFed Pole Cleaning System
> Fall Arrest Systems
> Scaffolding Towers
> Vertical Platforms
> Aerial Work Platforms
> Trolleys
Trolleys
Track Trolleys or Building maintenance units (BMU) are suspended access equipment intended to permanently installed and dedicated to a specific building or structure. BMU is a versatile system with numerous functions built into it for catering to difficult access requirements.The Trolley is designed to support Two Persons & Power Cradle. The trolley will be of very high profile and the Cradle can be rigged from the Terrace. Entry, Parking and Storage of the Cradle can be on the roof. The trolley is designed as per En1808 Standards.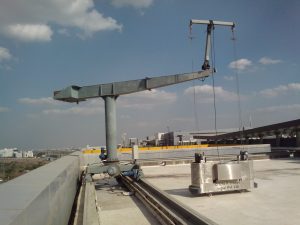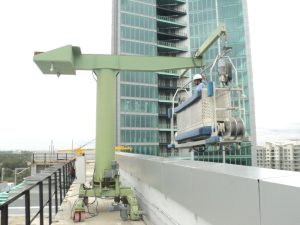 > Special Purpose Trolleys
Special Purpose Trolleys
Our Special Purpose Trolley is manufactured using high quality material to ensure efficiency and durability. Owing strength and high load capacity, it is widely used to carry wooden cartons and heavy carton and moving cargo. The trolley is offered in varied dimensions to meet the variegated requirements of the clients. It is offered in excellent packaging material.

> Aluminium Alloy Travelling Davits
Aluminum Alloy Travelling Davits
Traveling davits after an advantage over portable davits of moving along the periphery of the building on the twin track. They eliminate the process of anchoring the davits on to the sockets and then manually shifting the davits along the periphery of the building. Thus the facade cleaning can be done at faster rate. The Davit trolleys can be installed on the parapet walls or the building roofs and are available in options of both manual as well as motorized.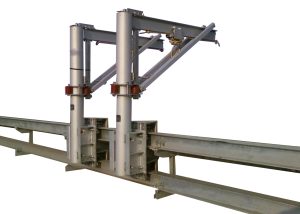 > Aluminium Alloy Travelling Jibs
Aluminum Alloy Travelling Jibs
Jib Trolleys after an advantage over the portable jibs due to the fact that they can move along the periphery of the building. As the process of dismantling and anchoring the jibs and then shifting them manually along the periphery of the building is eliminated, the facade cleaning can be done at a faster rate. The jib trolleys are mounted on the parapat walls or the building roofs and are available in options of both manual and motorised.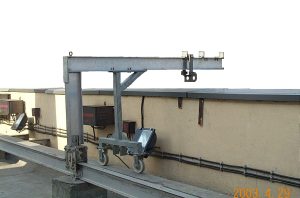 > Aluminium Alloy Davits
Aluminum Alloy Davits
Aluminum Alloy Portable davits are ideally suited for midrise and high rise buildings.Made out of special aluminum Alloy and 100% milol finished.Portable davits can be attached to permanently installed davit sockets on the RCC Parapet walls or the building roof slabs and can be lowered and shifted when not in operations. Portable davits are designed to suit a particular building and are capable of being moved from one location to another location within the dedicated area. A davit lifter is optionally available for ease in lifting and lowering the davit.
Portable davits are always used in pairs for suspending a self powered cradle.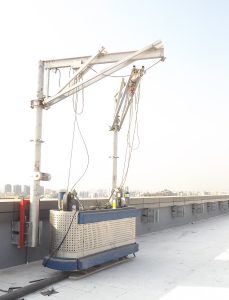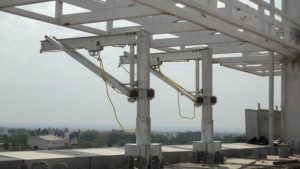 > Aluminium Alloy Jibs
Aluminium Alloy Jibs
Aluminium Alloy Portable Jibs are designed to suit a particular building and can be installed on the parapet walls or the Terrace roofs as per the requirements. They can be easily errected and relocated to various parts of the building.Portable jibs are made out of Aluminum alloy, making it light in weight and easier for movement from one location to another. Portable jibs are used in pairs.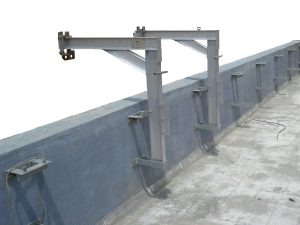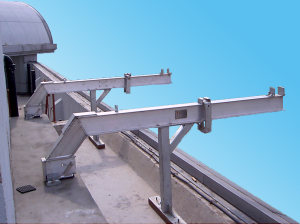 > Aluminium Alloy Monorails
Aluminum Alloy Monorails
The monorails are a track profile that allows horizontal traversing around a building facade for cleaning and maintenanace purposes. The product range includes a variety of specific components like support brackets, motorised and manual trolleys for enhanced curve mobility . Our different monorail profiles can be installed with bracket spams between 2.0 to 3.0 mtrs depending on the type of monorail used and the design requirements. The monorail profile was designed to support both one and two man power cradle.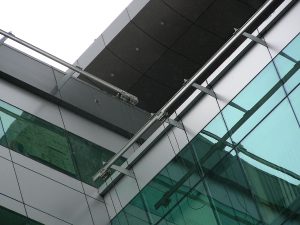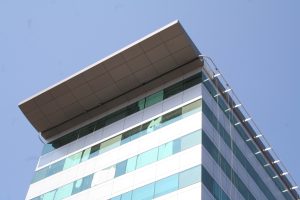 > Gantries and Travelling Ladders
> Roof Beams
Roof Beams
Roof Beams are highly acclaimed by clients for the sheer quality and robust performance. These are available at a very nominal price and can be customized as per the requirements within the assigned time. They are independent units which are mounted on the terrace to suspend the motorized platforms using counterweights to prevent accidental toppling over.
Roof Beams are made out of MS profile sections and are also available in 100% Aluminum as an option. Companies which are active in construction industry or services at the highest level will benefit the most from the range of products in this category. Roof Beams are usually preferred for buildings that have clear space all around terrace floor and that do not have any major projections along the building façade. The Aluminum Roof Beams are imported from "Altrex- Holland".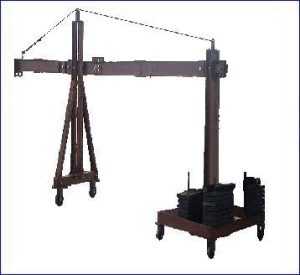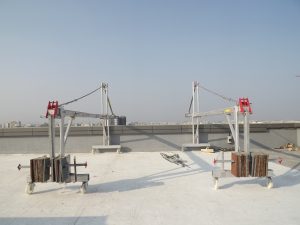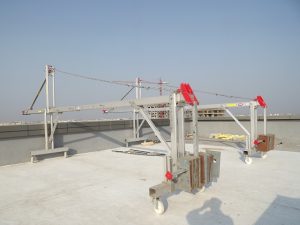 > Cradles
Cradles
Suspended power platform design to carry a safe working load of 240 kg ( i.e two person + material) for vertical transportation to execute cleaning or light maintenance operations.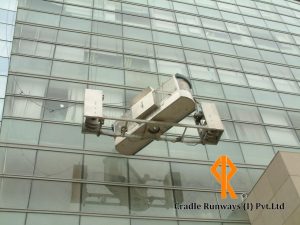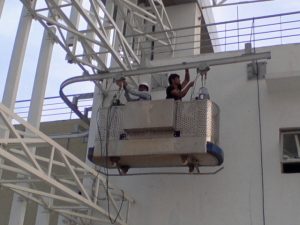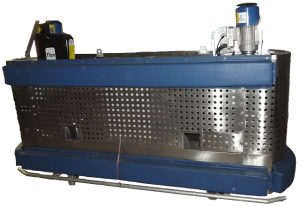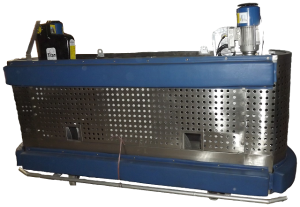 > Bosun's Chair
Bosun's Chair
The Bosun's Chair is an ideal solution for quick inspection window cleaning, or light maintenance of any building structure powered by ourself powered hoist it will give you more than enough lifting capacity while you remain in full control. Thanks to the easy to reach pendant control.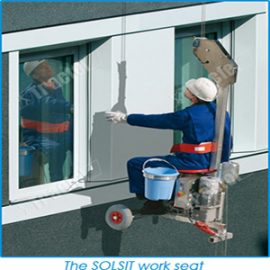 Self weight 120 kgs.
Self working load 90 kgs.
Equipped with safety features as per European norms.
European make or equivalent hoist.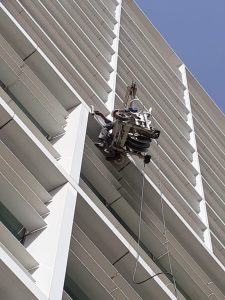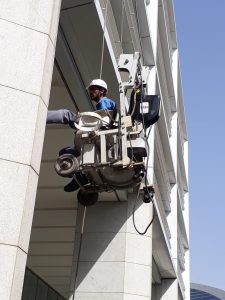 > Safety Eye Bolts
Safety Eye Bolts
For low to mid-rise building with simple building geometries & an economic budget, the installation of safety eyebolts is the perfect solution Cradle Runways(I) Pvt.Ltd. developed the safety eyebolts, range of anchorage equipment which is designed to offer effective safe success for operative carrying out facade cleaning or other menial building maintenance operations. Depending on the thickness of water proofing and RCC, the eyebolts come in 5 different sizes and can be installed in RCC slabs or RCC parapets as per design requirement. Eyebolts are supplied with knurled inserts & chemical capsules to allow easy installation & removal for periodic inspections.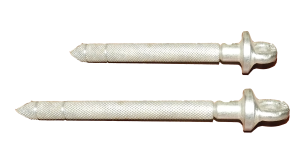 > WaterFed Pole Cleaning System
WaterFed Pole Cleaning System
Reach & Wash are primarily designed to access in inaccessible areas through scaffolding etc. The system is capable of producing De-Ionized pure soft water. Volume of pure water produced is linked to the size of resin cartridges and Duplex DI filter set up. This system is either truck mounted or trailer mounted for easy mobility. The system is built on stainless steel chassis. There are no moving parts other than delivery pump. The façade is reached and cleaned with the help of carbon fiber pole. The carbon fiber poles are available up to maximum length of 70ft.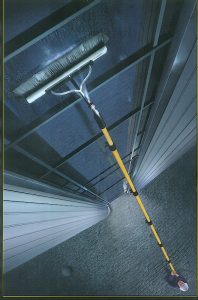 > Fall Arrest Systems
Fall Arrest Systems
1) Provides the user with total fall protections.
2) Can be used in different conditions.
3) Easy to design and install.
4) Confirms to the EN795 class c.
5) Maximum span in between the supports is 15 mtrs.
6) Comprehensive range of fixing the options.
7) Horizontal or overhead applications.
8) multiple users possible.
Safety line is a stainless steel wire system with supporting brackets detachable mini travellers and specialized anchoring that provides flexible, continuous protection for multiple users working at a height. The system incorporates an inline shock absorber that minimizes the loads to an acceptable level for both the user and the structure in the event of a fall. The components are quick and easy to install using special fixing arrangements with minimal or no roof penetration.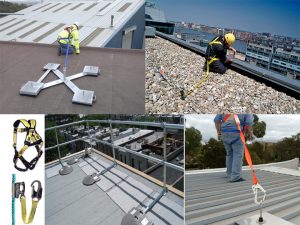 > Scaffolding Towers
Scaffolding Towers
For over 23 years,we have continued to improve our products with a passion towards the innovation,We are continously on the look out for new technologies and improvements.Our scaffoling tower is 100% alluminium which is even the saffer and quicker to assemble and dismantle. A rolling tower which meets the increasingly tighter euvopean regulations regarding the safty of scaffolding towers.
1) Quicker assembly and dismanting.
2) Light in weight.
3) Compact to transfer.
4) Wheels can be adjusted upto 15-25 cms.
5) Easy lock couplers
6) Top quality alluminium alloy.
7) Platforms can be dismantled by single person.
Utilising a scaffold tower on the job makes your project a lot easier to complete, not to mention safer. Whether you are washing windows or building a house, scaffold towers provide you with a place to stand and hang your tools.They also offer you added height for hard-to-reach places like roofs. Get your scaffold tower from a reputable source such as Lerner or Boss and always remain safe.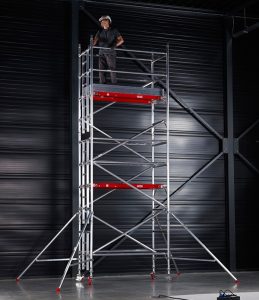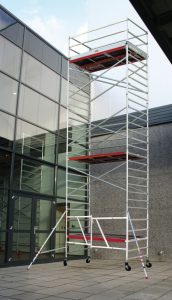 > Vertical Platforms
Vertical Platforms
The vertical platforms are meant to for work at heights as safe and handy as possible. They are extremely compact and light weight being made of aluminium.They are completely safe as they are provided with every possible safety feature. The vertical platforms can be used for various applications and are available in working heights of upto 16 mtrs. Owing to our rich industrial experience and vast knowledge, our company is engaged in dealing a large variety of Vertical Platforms to meet the needs of our customers. The surface of these platforms is smooth and even. Moreover, these platforms are finely designed with keeping minute details for proper and convenient working.
1)Available in working heights of upto 16 mtrs.
2)Can be used for indoor as well as outdoor use.
3)Available for 1 or 2 operators use.
4)Light in weight.
Features:
CE marked, Chain control,
Vibration reduction system, Suitable for external use, Auditorium kit, Compressed air in basket 6 bar, 220V socketin basket, Machine tilting system,Removable 24 volt power supply,
Remote control at the base of machine.
> Aerial Work Platforms
Aerial Work Platforms
Aerial Work Platform is intended to solve our client's height access challenges, safely and effectively. The continuously growing market for services in the field of building maintenance involves new and very specific challenges to height access technology.